Posts for tag: pediatric dentistry
By Putnam Family Dental
January 28, 2019
If there's anything that makes Alfonso Ribeiro happier than his long-running gig as host of America's Funniest Home Videos, it's the time he gets to spend with his family: his wife Angela, their two young sons, and Alfonso's teenaged daughter. As the proud dad told Dear Doctor–Dentistry & Oral Health magazine, "The best part of being a father is the smiles and the warmth you get from your children."
Because Alfonso and Angela want to make sure those little smiles stay healthy, they are careful to keep on top of their kids' oral health at home—and with regular checkups at the dental office. If you, too, want to help your children get on the road to good oral health, here are five tips:
Start off Right—Even before teeth emerge, gently wipe baby's gums with a clean, moist washcloth. When the first teeth appear, brush them with a tiny dab of fluoride on a soft-bristled toothbrush. Schedule an age-one dental visit for a complete evaluation, and to help your child get accustomed to the dental office.
Teach Them Well—When they're first learning how to take care of their teeth, most kids need a lot of help. Be patient as you demonstrate the proper way to brush and floss…over and over again. When they're ready, let them try it themselves—but keep an eye on their progress, and offer help when it's needed.
Watch What They Eat & Drink—Consuming foods high in sugar or starch may give kids momentary satisfaction…but these substances also feed the harmful bacteria that cause tooth decay. The same goes for sodas, juices and acidic drinks—the major sources of sugar in many children's diets. If you allow sugary snacks, limit them to around mealtimes—that gives the mouth a chance to recover its natural balance.
Keep Up the Good Work—That means brushing twice a day and flossing at least once a day, every single day. If motivation is an issue, encourage your kids by letting them pick out a special brush, toothpaste or floss. You can also give stickers, or use a chart to show progress and provide a reward after a certain period of time. And don't forget to give them a good example to follow!
Get Regular Dental Checkups—This applies to both kids and adults, but it's especially important during the years when they are rapidly growing! Timely treatment with sealants, topical fluoride applications or fillings can often help keep a small problem from turning into a major headache.
Bringing your kids to the dental office early—and regularly—is the best way to set them up for a lifetime of good checkups…even if they're a little nervous at first. Speaking of his youngest child, Alfonso Ribeiro said "I think the first time he was really frightened, but then the dentist made him feel better—and so since then, going back, it's actually a nice experience." Our goal is to provide this experience for every patient.
If you have questions about your child's dental hygiene routine, call the office or schedule a consultation. You can learn more in the Dear Doctor magazine article "How to Help Your Child Develop the Best Habits for Oral Health."
By Putnam Family Dental
November 19, 2018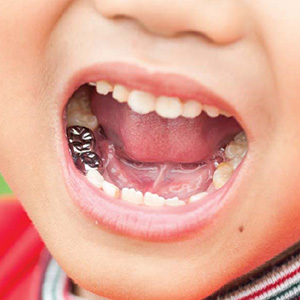 Although primary ("baby") teeth have a lifespan of only a few years, they're still important to a child's current and future dental health. In the present, they help a child eat, speak and smile properly. They also help create a healthy future as placeholders for developing permanent teeth yet to come in.
If, however, a child loses a primary tooth prematurely due to decay, the corresponding permanent tooth could come in misaligned. That's why we do what we can to help a decayed primary tooth reach its full lifespan. And there are different ways to do this depending on the type of tooth.
With front teeth, which don't encounter the same chewing forces as those in the back, we may use a tooth-colored filling. This approach is also preferable for appearance's sake since front teeth are highly visible when a child speaks or smiles.
Primary molars, on the other hand, need a more robust solution. A filling may not be able to withstand the level of long-term chewing forces that these back teeth normally encounter. And because they're less visible than front teeth, there's less concern about aesthetics.
That's why many pediatric dentists prefer stainless steel crowns for molars. Just like their permanent teeth counterparts, a primary crown fits over and completely covers a tooth. They're typically pre-formed, coming in different shapes and sizes that can then be customized for the tooth in question. After preparing and removing any decayed material from the tooth, we can usually install the crown in one visit with local anesthesia and a sedative (if the child needs it for anxiety).
While a steel crown isn't the most attractive restoration, it typically handles the higher chewing forces in the back of the mouth better and longer than a filling. That's especially critical for primary molars, which are some of the last teeth to fall out (as late as ages 10-12).  And besides preserving it as a permanent tooth placeholder, a crown also helps the tooth function effectively in the present.
Regardless of what method we use, though, preserving primary teeth is a primary goal of pediatric dentistry. And with a stainless steel crown, we can keep those important back molars functioning for as long as they're intended.
If you would like more information on caring for primary teeth, please contact us or schedule an appointment for a consultation. You can also learn more about this topic by reading the Dear Doctor magazine article "Stainless Steel Crowns for Kids."
By Putnam Family Dental
April 12, 2018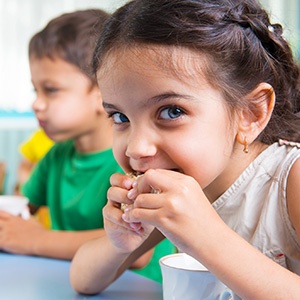 If you're committed to providing your family nutritional, low-sugar snacks, you're not only helping their physical well-being but their dental health too. If you have school-age children, though, you might be concerned about other snacks available to them while away from home.
To begin with, any potential problems at school with available snack items might not be as bad as you think. A few years ago the U.S. Department of Agriculture (USDA) established new snacking guidelines for public schools. Known as the Smart Snacks in Schools initiative, the new guidelines require schools to only allow snacks sold on school grounds that meet minimum nutritional standards. In addition, these guidelines promote whole grains, fruits, vegetables and low-fat dairy products.
Still, the guideline standards are only a minimum, which could leave plenty of room for snacks that don't meet your nutritional expectations. And school-offered snacks aren't the only ones available on campus: there are also those brought by other students, which often get swapped around. The latter represent tempting opportunities for your child to consume snacks that aren't the best for dental health.
But there are things you can do to minimize the lure of these poor snacking opportunities at school. First and foremost is to educate your child on why some snacks are better for them than others. In other words, make nutrition an instilled family value—and, of course, practice what you preach.
You can also send them with snacks you deem better for them than what's available at school. Of course, you'll be competing with a lot of exciting and enticing snacks, so try to inject a little "pizzazz" into yours like a dusting of cinnamon or a little parmesan cheese on popcorn. And use a little creativity (even getting your kids involved) to make snack choices fun, like using cookie-cutters to shape whole-grain bread and cheese into shapes.
And consider getting involved with other parents to encourage school administrators to adopt stricter snack standards over and above the Smart Snacks in Schools initiative. This not only may improve the nutritional content of available snacks, but also transform a "family value" into a community-wide appreciation for snacks that promote healthy teeth and gums.
If you would like more information on dental-friendly snacking, please contact us or schedule an appointment for a consultation. You can also learn more about this topic by reading the Dear Doctor magazine article "Snacking at School."